The 10 Best Pantry Desserts to Make At Home
We are facing challenging, unprecedented times. I know that in my life, I have never questioned whether staples like flour, peanut butter, and toilet paper would be on the shelves of my local grocery store until March 2020. And in the spirit of doing more with less, I'd like to bring you Our 10 Favorite Pantry Desserts to make with basic staples you probably have around your home.
Pantry Dessert Bars
Lemon Berry Blondies
For something a little lighter and more summer-y, you can't go wrong with these blondies. They're so delicious, and a welcome fruity addition to my day. And, they help me use up any frozen or fresh berries I've got in my fridge that are about to cross the rainbow bridge. Plus, getting a chance to have something with lemon in it is great in my book.
Fudgy Sourdough Brownies
Now, if you're anything like us, you've probably started making sourdough bread from scratch. "What could be so hard about sourdough, right?" Well, certainly a lot. One of the things that's hardest for me to get past, however, is all of the wasted sourdough starter that the process creates. Most recipes would have you just throw 75% of the starter in the trash. In the trash! I just feel so bad wasting resources like that. So, we've gotten creative.
We mix sourdough starters into tons of different baked goods, including pancakes and these brownies. They're so fudgy, and they have the subtle hint of tangy sourdough flavor that we've all come to know and love.
Peanut Butter Cookie Bars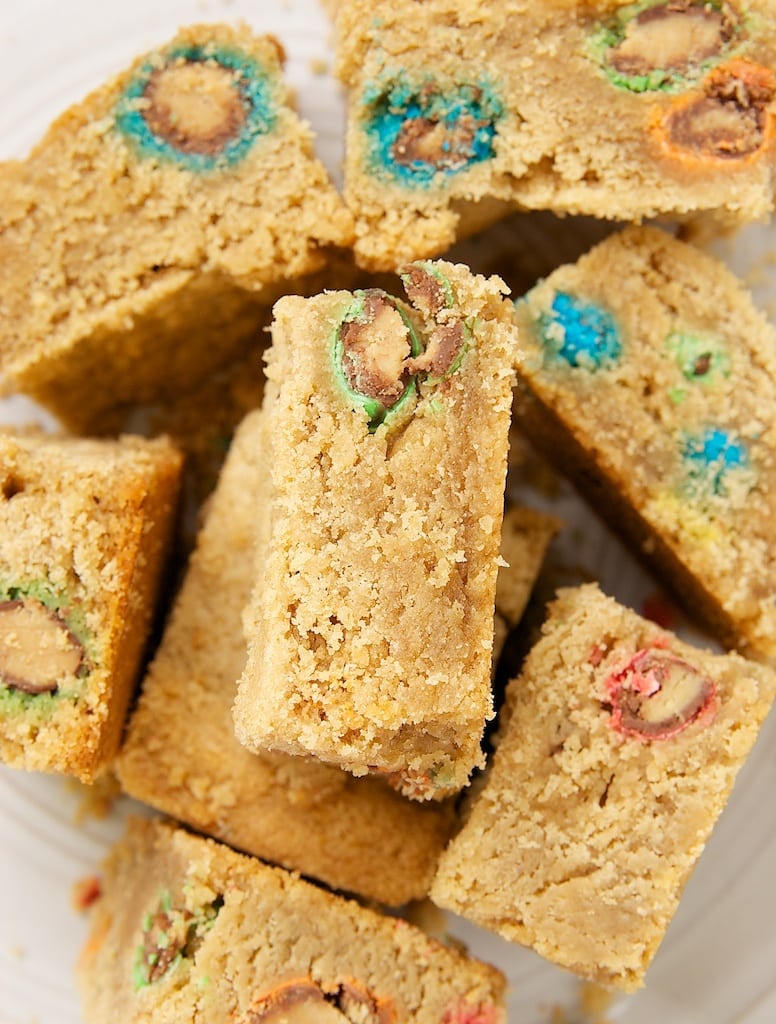 These cookie bars started as something of a mistake, according to the author. Too many M&Ms + not wanting to scoop cookies = peanut butter cookie bars. It's genius! This is the kind of ingenuity that makes me proud of the internet.
In all seriousness, who doesn't love peanut butter cookies? They're the perfect use of all those classic pantry favorites, but these are even easier than cookies because you can just lay all the dough into a pan and presto. Cookie bars.
Frozen Pantry Desserts
Dark Chocolate Peanut Butter Protein Nice Cream
This nice cream recipe is one that we almost always have sitting in our freezer. There's really not much to it; frozen bananas, cocoa powder, and peanut butter are the bare essentials you need to make something like this. We've got some extra stuff in ours to level it up, and go for it if you have it, but those three key ingredients will get you pretty far.
Summer Cherry Yogurt Popsicles
Another delicious summer recipe, these popsicles are also SO easy. They're just 3 ingredients! There's nothing I love more than a recipe that's so simple I can do it in my sleep. Plus, the use of Greek yogurt makes this a healthy snack, and who doesn't like popsicles, right?
Pantry Cookie Desserts
Chocolate Chip Cookie Dough Truffles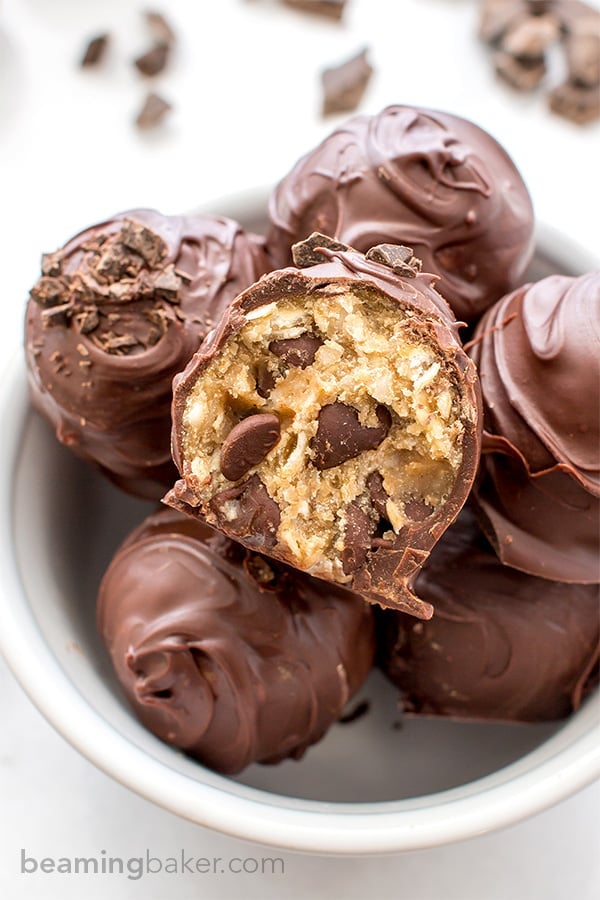 These Chocolate Chip Cookie Dough Truffles are the best way to get yourself that cookie flavor while staying vegan and gluten free. We've all had that moment where we try to bake vegan or gluten free cookies and they just decide to revolt and ruin your day. That's where these guys come in. They're delicious, chocolate-packed little nuggets of goodness that will make you say, "How many of these can I eat without being judged?" The answer is as many as you want.
Oatmeal Chocolate Chip Cookies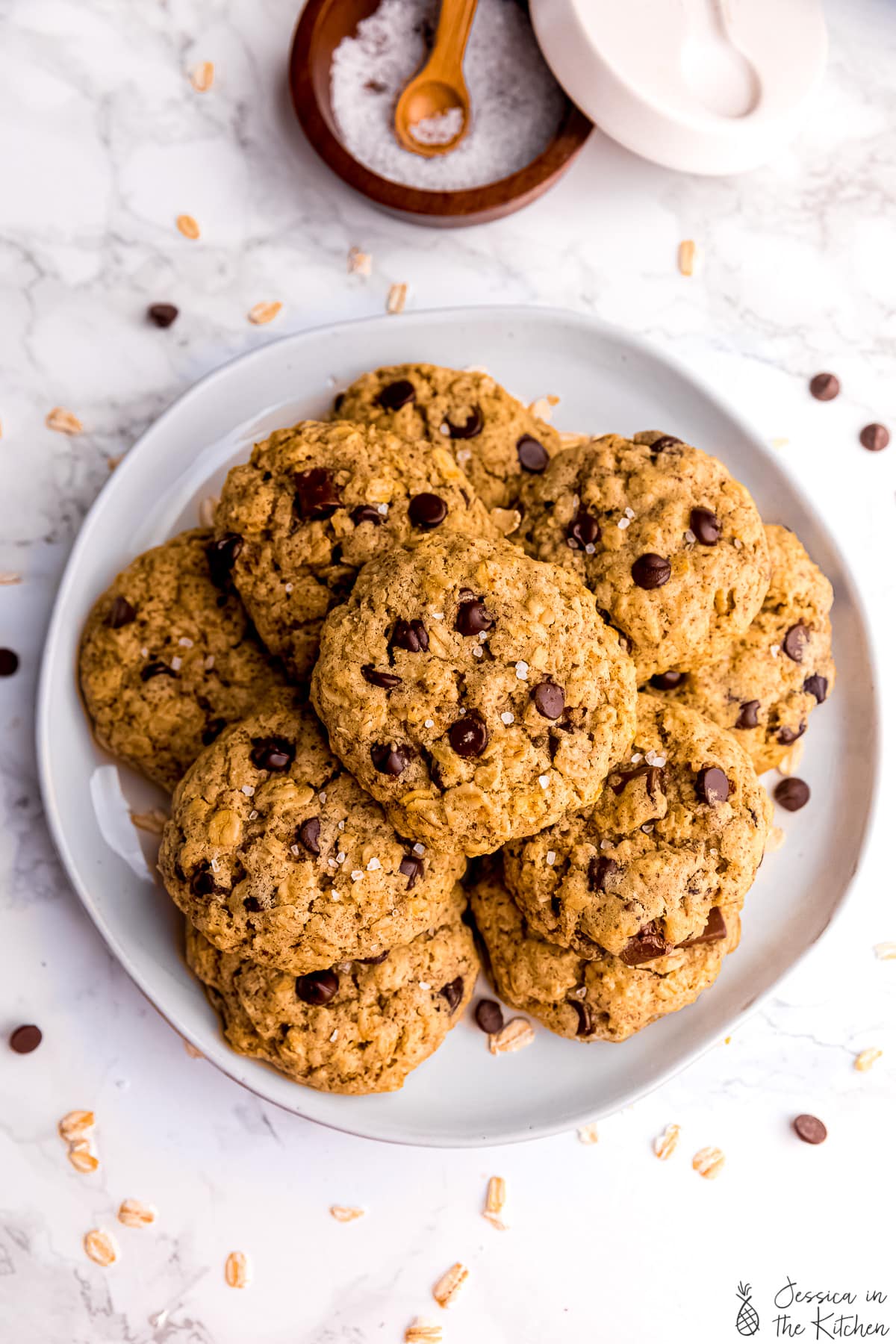 I know, I know. I just got through saying that the best way to eat vegan cookies was as dough, but hear me out. These cookies are to die for. The oatmeal and the flax egg keep them together, and they end up as these thick, chewy cookies that you just can't stop eating. Plus, a bonus is that if you use certified gluten free oats, they're just as vegan and gluten free as the last recipe.
No Bake Pantry Desserts
Peanut Butter Caramel Rice Krispies
There's something to the childlike whimsy that comes from Rice Krispie treats. When you're a kid, it doesn't matter how overly sweet, sticky, and overall question-inducing nature of standard Rice Krispie treats. However, these Peanut Butter Caramel Rice Krispies are the perfect way to get your fix while still being somewhat responsible. They're incredibly easy to make, and they have no marshmallows. That's right! The mysterious, sticky white fluffs that made up your childhood Rice Krispie treats are now gone, and you won't miss them.
Vegan Dark Chocolate Tofu Cheesecake with Peanut Butter Pretzel Crust
Now that's a mouthful of a title. But, you'll forget all about that when you get a mouthful of this cheesecake. It's almost too good. It's the perfect confluence of all kinds of different delicious ingredients, and it takes me, a non-lover of cheesecake, and makes me a believer. Plus, it's protein-packed because of the tofu, and requires almost no baking!
Tofu Chocolate Pudding
Our Tofu Chocolate Pudding is another one that's so simple I almost feel bad making a recipe for it. Now, I know what you might be thinking: tofu? Seriously? Yes, seriously. We've usually got a container of firm tofu lying around, and this is a really great way to use it. It's sweet, protein-packed, and SO easy.
I hope you enjoyed this list of the 10 best pantry desserts to make at home. If you want to see more from us, follow us on Instagram, pin our recipes on Pinterest, and check out the related posts below.
Related:
1: 10 Best Kitchen Tools to Make Your Life Easier
2: Kale and Strawberry Summer Salad
3: Cranberry Chocolate Energy Bites
Feature Image Credit: The Home Edit
---